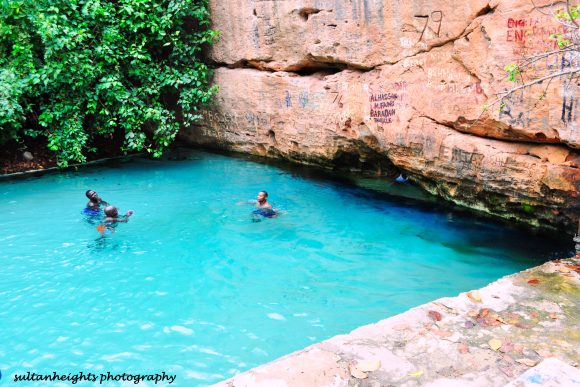 Are you seeking for one of the best places to visit in Nigeria? Here is another one for you—a place where nature is reserved to bring pleasure. Yankari Game Reserve is a wildlife park located in the south-central part of Bauchi, Nigeria. The area covers over 2224sq km with different varieties of animals and plants. It is situated in the heartland of west African Savana. This makes it an attractive site for tourists across the world to spend their holidays and watch wildlife in its natural habitats. If you are an animal or nature lover, here is the best place for you to feed your eyes with the reserved nature. It is a home of several natural warm water springs and a wide variety of flora and fauna. If you are visiting Nigeria for the first time, it is a must-see center. The impeccable beauty offered by nature is what is restructured to bring tourists an eye-catching site to leave a memorable experience. So, prepare yourself to experience whatever best you are seeking for in a park.
THINGS TO ENJOY AT YANKARI GAME RESERVE
This park ones boast of having the highest surviving elephant in West Africa. You also must see other different species of animals like African lion and Buffalos. If you want to get the best out of this savanna, I would advise you to visit during the dry season where the grasses are short and dry. This period is when you visibly see most of the different species of animals. In addition to that, you also get to see over 350 different species of birds. There are lots of animals to see. You may also be careful with the baboons as they are tricky and might want to steal your food. However, dangerous animals like lions are kept afar from human contact. Trust me. This will leave a long- lasting memory after exploring the Savana.
What other thing do you stand to enjoy? Have you heard of the Wiki Warm Spring? Yes, it sounds exciting already, right? It is something you will like to experience. If you have the chance to visit Yankari Game Reserve, try not to miss out on this exciting part of the game. The Wiki warm spring is said to result due to geothermal activity beneath the ground. So be ready to take a warm bath.
Apart from the animals and warm waters, you will also get to see a historical cave which is said to be used by the early men. It is a lovely place to camp with your family. Alongside is a museum filled with rare animal carcasses like Elephant tusks and bones. Also, in the museum are worthy and historical artifacts dated back during the slave trade. If you are visiting Nigeria the first time, try as much as possible to visit this park. It is filled with fun, and I can assure you that it will forever leave a moment in your life
ZION NATIONAL PARK
It comes a great time when you need to start planning a trip to relax your mind and soul. I guess that has been in your thought ever since. Well, there is a perfect place for you and your family. Guess where that place is? Zion National Park in Utah, USA. What are your plans? Are you ready to visit a beautiful nature preserved park, distinguished by Zion Canyon steep red cliff? How about the beautiful river and the diversity of desert life and high mountains? You may have been seeing this park on YouTube videos. Maybe pictures from a friend who have visited, and you are overwhelmed by the views. Well, now is an excellent time for you to explore. You do not need to miss out on anything in this park when it comes to feeding your eyes with great views. Zion is a place for you and a place you will talk about in years to come. The beautiful adventures are breathtaking.
EXPLORING THE PARK
If you have chosen Zion National Park, trust me, you have made the right decision. Zion offers hiking, climbing, camping, backpacking, and many more. This makes it one of the best vacation spots for families and adventurers. However, the first thing you need to know is the sites of attraction. The Zion's has two main sites of attraction. These sites are along the Zion Crayon Scenic Drive and the Zion-Mount Camel Highway.
The canyon is accessed through the Zion Crayon Scenic drive with towering cliff walls on both sides. The road offers the best views in the park, including views up to Angels Landing and the Narrows. There are beautiful scenes here, and you stand to get most of the key attractions along this road. There are shuttle buses to move tourists around the park. However, you can also choose to bike along this road as those shuttle buses are equipped with bikes. In some cases, when the buses are not available, you can drive through with your vehicle.
The other side, which is the Zion mount, offers another incredible view to the park. It provides a dramatic view from one side of the valley to the other. The road hugs the cliff wall as it moves up the mountainside, which passes through a narrow tunnel. Immediately you come out of the tunnel is the Crayon Overlooked Trail. Beyond this point, you will notice another incredible view of the rolling ridge mountain of orange and cream colors. They are lots of fun to have here. Let us move down to the Riverside Walk. This walk is a 2.2mile round trip. It is attractive and offers a stunning view to tourists. You do not need to finish the trail to the end of the river. You can get a satisfactory look at the little you can do. You have a paved trail that passes through the garden to the water edges. Just across the other end of the river, you will find a waterfall pouring from a high cliff. This is a perfect site that offers excellent views for birds and other wildlife.
They are so much to do here. You also have the Human History Museum if you care to know about people who have lived there over the centuries. So much fun and adventures.
Remember to make your plans and bookings quick to get your perfect holiday right …………